Premier Boxing Training and Private Classes in Hong Kong

We take your boxing training to the next level at The G.O.A.T. Boxing Club, your premier gym based in the heart of Hong Kong. Our goal is to provide you with the best personalized, private, and transformative boxing classes and coaching that empower both your body and mind, allowing your craft to integrate into your everyday life seamlessly. Whether you're a newbie with a passion or a seasoned pro, our tailor-made boxing programs will be perfect for any experience level.
Why Choose Boxing Training at The G.O.A.T. Boxing Club in Hong Kong?
Convenience: Situated in Central, our boxing club offers an easy access point for those looking for a safe space to release their tension and learn new skills. We can cater to your every training need around the clock, from early morning classes to post-work sessions.
Luxurious Facilities: Our spacious and clean training area provides the ideal environment for learning and practicing boxing techniques, along with various exercises that will elevate your overall stamina, speed, agility, strength, and coordination.
Expert Trainers: Learn how to box from the best. Our experienced trainers guarantee that each boxing class propels you towards greatness, and we will encourage you to try different techniques and exercises as part of our coaching. We will also guide you on perfecting your form and target your areas for improvement.
Personalized Sessions: We're dedicated to offering a rich, engaging experience tailored to your precise fitness aspirations. With our emphasis on individual boxing training overcrowded group sessions, you're positioned to see rapid advancements.
Adaptable & Inclusive: All are welcome at The G.O.A.T. Boxing Club. From raw beginners to seasoned boxers, we want to build a community where like-minded members can bond and thrive together, pushing each other to move forward during their individual boxing journeys. We also don't charge exorbitant membership fees, ensuring top-tier training is accessible to all.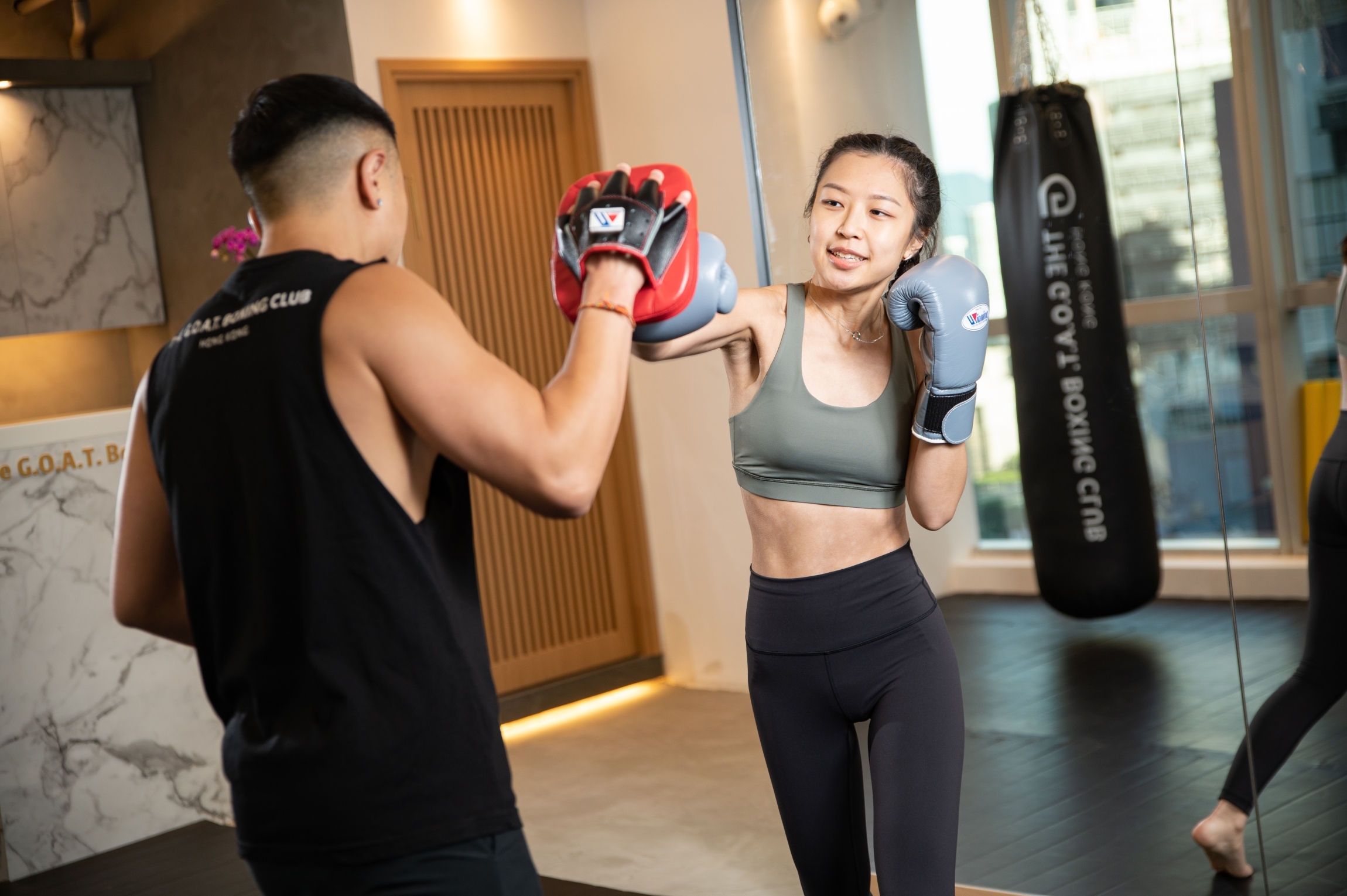 Experience One-On-One Boxing Coaching and Lessons
Our private boxing lessons in Hong Kong are an elite opportunity for close collaboration with our trainers, spotlighting your inherent strengths and points of enhancement. We help navigate you through the intricate maze of boxing techniques, helping you not to just hit your targets but surpass them. Whether you want to sculpt a fitter you, master the nuances of defense, or simply find a new hobby or passion, we will listen carefully to what your specific goals are in order to craft training sessions and coaching plans that resonate with your personal aspirations.
We also offer private classes for Muay Thai at our gym if you are interested in expanding your horizons even further, Contact us today to find out more.
Book Your FREE TRIAL Today!
Why stay on the sidelines when you can be in the ring? Dive into the exhilarating world of boxing training with our boxing gym FREE TRIAL! A lifechanging journey awaits – sign up now and start seeing the difference in your strength, skill, and soul.